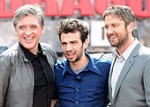 How To Train Your Dragon 2, sequel to the hit animated film, will reach theaters on June 20, 2014 according to Dreamworks Animation.  The announcement was also covered by UPI and ropeofsilicon.com.  Three years is a while to wait for Craig Ferguson to return as the voice of Gobber the Belch but in the meantime, we'll get to a see a feature film treatment of Mr. Peabody and Sherman from the Rocky and Bullwinkle Show and Madagascar 3.
Craig was skeptical of Aaron Eckhart's snake story, says TVSquad.com, while Hollywood.com was appalled that Eckhart doesn't like movies.  Movieline.com focused on the opening segment and Craig's recently divorced guest.
CityViewMag.com lists Craig's appearances at the Comedy Works as something to do in Denver in March… it's too bad they headlined the paragraph with the name of an unrelated comedy club in Los Angeles.
The British Band Stackridge is due to appear on the Late Late Show on March 14th and are picking up more media coverage as the date nears, including this mention in BeatlesNews.com.
Josh Robert Thompson was in the CBS studios today:  At CBS today, working amongst the ghosts of legends. http://yfrog.com/h0gtyelj
Perhaps the biggest news on Monday night's show apart from Scotland showing us their beavers and Craig breaking the camera again was that Geoff Petersen's bits are no longer in customs and have arrived!  We're not sure what that means but perhaps one day we'll find out.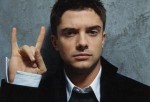 On Tuesday's Late Late Show, Craig welcomes actor Topher Grace and Academy Award-nominated actress Catherine Deneuve.   LLS Producer Michael Naidus added a tantalizing tweet:  Hey – Shields Restaurant, Bar, and Pizza in Troy, Michigan … Tonight [Tuesday] is YOUR night on The Late Late Show! Then on Wednesday, country singer/songwriter Trace Adkins returns to the show, along with actor Windell Middlebrooks.
© 2011, RSANews. All rights reserved.