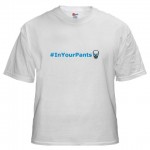 It started as an interchange between Craig Ferguson and Geoff Petersen. It became a thriving hashtag on Twitter among robot skeletons. Now, it's a T-shirt. That's right… now you can tuck an #inyourpants T-shirt #inyourpants, thanks to the RSA Store!
Craig tweeted just a short while ago:  I had an absolute grumblefuck of a day but then I saw the white knuckles bid on YouTube & cheered right up. Thanks okgo and dogs. The video to which he refers is this one:
Video courtesy: OkGo

There may be another night time show coming to Comedy Central, to play alongside The Daily Show and The Colbert Report… this time spoofing sports rather than the news, with Saturday Night Live alum Norm MacDonald as host. The Los Angeles Times talks about the people behind the show.
New Jersey's News Record is talking up Craig's upcoming stand up comedy performance.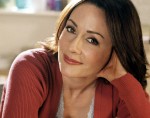 On tonight's Late Late Show, it's actress Patricia Heaton, actor Adam Brody and music by Sara Bareilles.  Wednesday night, it's a special show featuring the cast of The Big Bang Theory.
© 2010 – 2011, RSANews. All rights reserved.