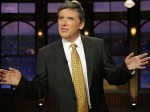 Fans of the Late Late Show with Craig Ferguson and Late Night with Jimmy Fallon are watching Thursday night's shows to see what the two rival hosts are getting each other for Christmas.  Craig tweeted:  I sent a friend to deliver my Xmas gift to @jimmyfallon on his show 2nite [Thursday]. His gift to me on my show 2nite. #(latenight)warisoverifyouwantit LLS producer Michael Naidus tweeted as well:  A very large box for Craig has arrived with a postmark of Rockefeller Center. What could it be?  Even CBS publicist Katie Barker added:  Santa Claus is coming to town for @CraigyFerg & @JimmyFallon. Tune-in to the shows tonight to see what is exchanged.
Does Craig read his tweets?  Apparently so.  On Thursday, a fan named @kadontherock tweeted:  dear Mr. F., what is the answer to life, universe and everything? Khadi, London UK Moments later, Craig replied:  42 Nice Douglas Adams reference there, Mr. F.
Our fearless leader also tweeted some words of advice Wednesday night:  Just a reminder. Intellect & romance over brute force & cynicism. #fuckyallhaters.
The first of Craig's 2011 live stand up appearances has been announced.  He'll be appearing at the Comedy Works in Denver, March 16th and 17th.  Since it's a club appearance rather than large venue, could it be that he's trying out new material for the new year?  Tickets are already on sale.  It's a chance to see Craig a little closer than usual.
TV weatherman Al Roker has written a new novel that includes a character loosely based on Craig Ferguson.  As Long Island's Newsday reports, the character gets blown up in the story but Roker says he's a fan.
Australia's Sky.com mentions Kirsten Dunst's appearance on the LLS.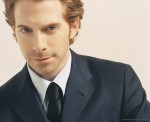 On Thursday's show, Craig interviews actor/producer Seth Green and actress Lena Dunham.  Green tweeted:  On @CraigyFerg tonite- so jealous of the greenroom decor http://twitpic.com/3gkmye Musician Ruth Gerson has been rescheduled for next week.  On Friday, watch for actor/comedian Billy Connolly and comedienne Maria Bamford.
© 2010 – 2011, RSANews. All rights reserved.