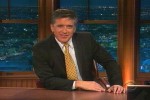 Craig tweeted to his fans, hinting we should watch Monday night's show:  With the Obama impersonation I do on the show tonight I feel I may have scaled new heights of slapdash TV abstract impressionism *proud*
He enjoyed Chris Hardwick's tweet:  Love it "@nerdist: I am tickled that so many people read my wintery #letitsnow hashtag as "Le Tits Now." #LeTitsNow Even if the weather outside is frightful, guys?  And he also re-retweeted Kristen Bell's appeal:  PLS RT! I designed this necklace w/all profits going to Invisible Children! give it as a gift & do twice the good! http://bit.ly/gSAzol
Craig's assistant Rebecca Tucker is hoping to find an actor in her stocking:  zac efron is back on the market?!? merry christmas to me!
Josh Robert Thompson is tweeting about his latest role:  That's right, Boo Boo: my voice is featured in the new YOGI BEAR movie opening THIS FRIDAY! Can you guess who I'll be? #YogiBear
The RSA's @love_loud_music noticed that former Late Late Show host Craig Kilborn was mentioned in an MSN feature story today, talking about former talk show hosts.
Entertainment Weekly reports that Jimmy Kimmel has signed for two more years of hosting on ABC.  Although none we've seen have been specific, various sources including the New York Times have reported that both David Letterman and Craig Ferguson remain under contract until some time (possibly August) in 2012, which means the late-night landscape should remain stable for at least a while longer.
On Monday's Late Late Show, Craig welcomes actor Tom Arnold, actress/comedienne Alison Becker and the news team from the CBS Early Show: Erica Hill, Chris Wragge, Jeff Glor and Marysol Castro.  On Tuesday, Craig chats with actress Kirsten Dunst and comedian Greg Proops.
© 2010 – 2011, RSANews. All rights reserved.