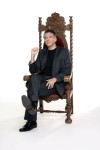 The premiere of Craig Ferguson's new stand up comedy special Does This Need To Be Said is less than two weeks away.  The folks at EPIX posted a new promo for the show today, with interviews of fans recorded just after Craig's Nashville shows.  If you don't have EPIX on your cable or satellite service, you'll be able to see the show when it premieres on Saturday, February 19th at 8pm ET on EpixHD.com.  You need to be a subscriber of the website to see it but they're offering a special 14 day free trial *wink, wink, nudge, nudge* for Craig's fans!
A word to the wise, LLS assistant producer Andrea Wayland recommends no email or Twitter questions about the baby if you hope to have them answered on the air:  My advice, no baby questions if you'd like to up your chances. That advice should be no surprise… Craig has said from the beginning he doesn't plan to answer questions about the baby unless he feels like it.  Be respectful and it'll go a long way.
Craig's assistant Rebecca Tucker tweeted:  For those who asked, there is a reason for the delay in listing Craig's standup dates on CBS website. Hold tight and they will be up soon That could mean some new dates are pending.  We'll keep an eye on it for you.  In the meantime, you can always check out our listings, which have every date we've heard about so far.
A reminder:  Craig will appear as Conan O'Brien's guest on TBS on February 8th at 11pm ET.
As Rebecca Tucker wondered and @SexyCraigFerg confirmed, so too has @malinky2stoatir captured for all of us to enjoy: Craig's brief but tasty appearance on Food Network's Cupcake Wars. Watch carefully or you might miss him.
Video courtesy: TVsCraigFerguson

The full episode of the battle for cupcake supremacy at the Grammy nominations concert will air a final time Saturday, February 19th at 4pm ET/PT.
The RSA's General @malinky2stoatir also reminds us that February 8th is an important day in RSA history. That's right… it was one year ago that our fearless leader called us to follow him on the tweety and assemble in the hollowed-out volcano. It hardly seems like an entire year has gone by but 1100+ tweets and more than half million followers later, @CraigyFerg is still going strong.
Video courtesy: TVsCraigFerguson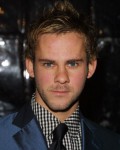 Monday on the Late Late Show, it's Craig's first day back after the birth of his son Liam.  Craig will answer tweets and emails with actor Dominic Monaghan, chat with actress Gabrielle Union and bring us a performance by comedian Kurt Metzger.  Tuesday, Craig welcomes actress Emily Blunt and Egyptologist Dr. Kara Cooney.
© 2011, RSANews. All rights reserved.