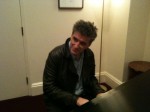 Craig wraps up his latest three-day stand up tour in Kansas City tonight and will be back in Los Angeles for Monday's Late Late Show.  He'll be back on the road every night starting October 16th through the 23rd.  We'll keep you up to date on the tour schedule.  The comedian who warms up the audience each night before Craig comes on is Randy Kagan.  He tweeted a photo from Kansas City this evening:  Just landed in KC. Time for BBQ! http://yfrog.com/jmr2fmj
Our friend @bgrubarb pointed out that in the Lollipop Theater Network auction, there are actually two chances to meet Craig backstage in New York on October 23rd.  He has two performances, one at 2pm and another at 7pm… and they are auctioning off a meet and greet opportunity for both shows!  The auction runs through October 19th, so place your bids soon!
When Craig's novel Between the Bridge and the River came out in 2006, he spoke at length on the National Public Radio program Fresh Air.  It's an interesting and enlightening discussion.  If you haven't heard it before, please take a listen.
It's another week of all-new episodes of the Late Late Show.  Things get started on Monday with the often cheeky actress Lauren Graham and a performance from singer Roseanne Cash.  On Tuesday, it's actor Alfred Molina and comedian Cory Kahaney.  Actress Debra Winger and actor Adhir Kalyan are in the studio on Wednesday.  Then on Thursday, we'll see interviews and performances from country singer Toby Keith and comedian Louie Anderson.  And on Friday, Craig chats with actress Mary Lynn Rajskub and NASCAR driver Carl Edwards.
© 2010 – 2011, RSANews. All rights reserved.