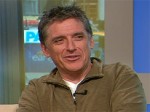 Craig is back in LA after a pair of stand up comedy shows, with only a few shows left for 2010. As soon as we hear of any dates being booked in 2011, we'll let you know. We've heard rumors that roboskellies have words and pictures to share, so watch for them here late Monday night.
Reminder: Craig appears Monday on the CBS daytime show The Talk. Check local listings for the time "in your region".
In case you missed it a few months back, one of the best interviews of Craig Ferguson ever was conducted by actor/comedian Kevin Pollak on his internet-based Chat Show. The show always opens with 10-15 minutes of Kevin chatting about what's been happening in his life, then moves on to the guest… in this case, a nearly 90-minute conversation. They covered a wide range of topics and we got a great sense of Craig a litte more "raw" than usual, not only in his accent and language but in his openness about his life and career. Enjoy.
Video courtesy: kevinpollakschatshow

The RSA's @Colleen_Byrne spotted this: Heads up! Craig's interview on Kevin Pollak's Chat Show is available on DVD on Amazon for $10. http://amzn.to/bG0lVT And she found a great blog that features Craig and Kevin as interviewers worth watching: Really nice blog post re Craig, Kevin Pollak, Adam Carolla as new kings of talk shows: http://bit.ly/bCJ6Hu
It's another week of all-new episodes of the Late Late Show headed our way. Up first on Monday is actor Tom Selleck and a performance by comedian Myq Kaplan. On Tuesday, Craig chats with actress Cheryl Hines and cooks up some fun with chef Wolfgang Puck. On Wednesday, Craig will welcome actor Tim Meadows and comic book creator (and leader of the POW! Brigade, rivals of the Robot Skeleton Army on Twitter) Stan Lee. On Thursday, it's actress Rosie Perez and UFC fighter Rampage Jackson. And on Friday, the lone guest has been tentatively listed as actor Ewan McGregor. We'll try to confirm that and let you know.
© 2010 – 2011, RSANews. All rights reserved.