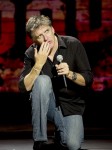 If you missed Tuesday's Late Late Show, we hope you'll take some time to find it on the Googly-web FaceTube thingy and watch.  Judging by the Twitter chatter over the past 24 hours, many agree it was one of the best episodes in recent memory.  And not just because of a great monologue, some patented Craigy crankiness during the tweetmails and Larry King dancing with Secretariat.  It was also the magic that happened when Larry moved to behind the desk and Craig sat in the guest's chair.  Larry's natural role as the questioner brought out Craig's candor in a new way.  His entire demeanor changed when placed in the role of respondent.  His frankness was both refreshing and mesmerizing.  During the show, Craig tweeted:  The adorable @kingsthings Interviewed me on my own show. He probed me gently like the professional he is. // Sorry @shannonwoodward fans. @kingsthings hogged the whole show tonight. She'll be on soon. #blameLarry. And Larry added:  Had great time on Craig Ferguson's @CraigyFerg Late Late Show. Tune in tonight & see how I turned the tables on him http://yfrog.com/h5dokxj The result was a great show… one that we hope will attract new fans as word gets around. What we saw Tuesday night is what sets Craig apart from the rest of the late night television hosts… and from lots of other folks, too.  The online newspaper Examiner.com enjoyed Tuesday night's show as well, giving it extensive coverage.
HeyYouGuys.co.uk gives us a look at the international version of the new Winnie the Pooh poster.  Craig will be the voice of Owl in the film, which opens this summer.
Is there a Burns Night supper in your area this week?  Many Scots at home or abroad celebrate the great poet Robert Burns on or about his birthday of January 25th.  Enjoy some haggis and have a fun evening!
The folks at EPIX, the premium cable channel that will be airing Craig's new stand up comedy special beginning February 19th, send a tweet Wednesday reminding people that if you don't subscribe to EpixHD.com, you still can see the show online: Hey @CraigyFerg fans. Not to worry if you don't have EPIX! As the show gets closer we'll be offering free trials so check back for updates. We'll keep you posted as well.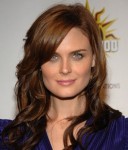 Wednesday on the Late Late Show, Craig welcomes actress Emily Deschanel and comedian Rich Fulcher.  On Thursday, Craig talks with actress Maria Bello and biologist Dan Riskin. Poor Shannon Woodward, who had been scheduled to be on the show Tuesday night, has been bumped from the show at least twice now. We hope to see her soon. She tweeted:  Had a nice chat this eve with @craigyferg about omelettes & water boilers. It will be suspended in time and shown another day.#blamelarry. Craig added:  Sorry @shannonwoodward fans. @kingsthings hogged the whole show tonight. She'll be on soon. #blameLarry.
© 2011, RSANews. All rights reserved.