The Future of Craig and Dave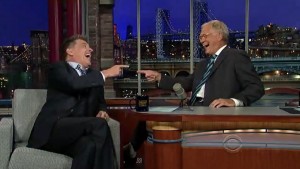 The New York Times expert on late night television, Bill Carter reports in his blog that CBS is close to signing David Letterman for another two year contract extension which would keep him at the network into 2014.  If Dave signs the deal and stays on, it would allow him to host late night television shows for 32 years (11 on NBC and 21 on CBS), surpassing the 30-year mark attained by his idol, Johnny Carson.  Carter also notes in his article that discussions are continuing with Craig Ferguson, whose contract time frame mirrors Letterman's.  Carter points out that while Craig has a clause in his contract that would allow him to take over for Dave upon his retirement, our favorite Scot may not necessarily decide to do so.  Carter says negotiations currently under way with Craig may include not only a salary increase but a request for a bigger production budget for the Late Late Show.  Among the media outlets picking up on Carter's post Thursday were The Hollywood Reporter, Variety, Gothamist.com, the Wall Street Journal, the Huffington Post, TV.com, TVGuide.com and Deadline.com.  The conventional wisdom is that Craig, recently remarried and enjoying family life in Los Angeles, is in a good place right now.  Another two years of doing the show and touring with stand up shows would seem to be the logical path.  On the other hand, Craig is known for zigging when other zag.  We'll keep you posted.
Posing on Set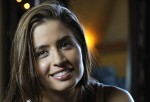 The Huffington Post reports on Mercedes Masohn's appearance on the Late Late Show, where she talked about her co-star on The Finder, Michael Clarke Duncan.



Lots of Craig Fergusons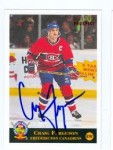 From our "other Craig Fergusons" file, there is a former professional ice hockey player with the same name who was active in the 1990s and early 2000s.


A Dark Comedy Club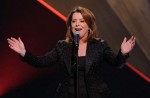 The Green Bay Press Gazette interviews comedienne Kathleen Madigan, who talks about appearing on the Late Late Show, comparing it to a comedy club atmosphere.



The People's Choice
Jimmy Fallon took home the People's Choice Award for late night host Wednesday night and in his acceptance video, included a fun mention of Craig Ferguson:
Video courtesy: PeoplesChoice

Tonight's Guests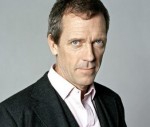 Thursday on the Late Late Show, Craig chats with his old show business pal, actor Hugh Laurie.  Friday, it's the return of actress Kristen Bell, along with comedian Louie Anderson.
© 2012, RSANews. All rights reserved.