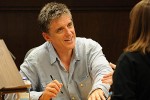 Craig will be appearing live on stage in a different setting on November 2nd in Los Angeles. He'll be a guest in comedian Lewis Black's "In Conversation" series to help raise money for literacy programs. Tickets go on sale Saturday.
They're still buzzing about the musical number on Wednesday's show.  Wired.com is calling it "the best video ever made" (the clip is about halfway down the page).  Thanks to the RSA's @Colleen_Byrne and @HMSFox for sending us the link.
For those RSA fans to get their Craigy fix on the interwebs rather than over the airwaves, our esteemed General @Malinky2Stoatir posted a brief message today letting us know about the first two days of next week:   Due to a scheduling conflict, the Malinky train will not be on time Monday or Tuesday…expected to return on schedule Wed. #CouldNotAvoidIt
Grant Imahara, creator of robot skeleton sidekick Geoff Petersen, tweeted this:  Apparently, my creation @GeoffTheRobot has developed tweet capability. (Official CBS account.) Be afraid. Be very afraid. To which Geoff replied:  Thanks @grantimahara for the shout out… And for giving me robotic life. After that, tweet capability was inevitable. Mwah-ha-ha, mwahhaha  Did I mention? Mwah ha ha! Mwa ha ha! And then today, Geoff tweeted:  Sure @grantimahara gave me life but sadly I'm knock-knock challenged. Mr F @CraigyFerg put me thru my paces last nite. I've been practicing We'll have to keep an eye out for knock-knock jokes.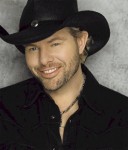 Watch the Late Late Show Thursday night and you'll see interviews and performances by country rocker Toby Keith and comedian Louie Anderson.  On Friday, Craig welcomes actress Mary Lynn Rajskub and NASCAR driver Carl Edwards.
© 2010 – 2011, RSANews. All rights reserved.