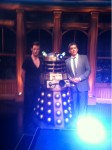 Doctor Who mania takes over the American airwaves tonight, as the Late Late Show with Craig Ferguson gives viewers a chance to meet the eleventh actor to play the role of the Doctor in the long-running British cult science fiction show.  Matt Smith takes over the role from David Tennant, continuing a tradition of the many actors and writers who have put their spin on the now legendary program.  How to begin the show?  Craig gave us a hint:  Would it be so wrong to add some words to the DrWho theme tune and turn it into a little dance number with puppets? Just for 1 night. He also included a preview picture:  http://yfrog.com/jxfupgj A couple of friends drop by for the show tonight. Should be a larf.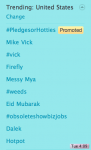 As we saw Monday night, Craig has a Dalek in the studio, one of the alien robots that first appeared in the original series which ran from 1963 to 1989. The term "Dalek" was trending on Twitter Monday night, lending proof of the combined power of Whovians and the Robot Skeleton Army.  Thanks to the RSA's @Fergasm for capturing the screen.  Tuesday night's show will be a fun one.  Many media sources, including UPI have picked up on the story.  And even Geoff Petersen quipped:  Well Hellll-ooo, Dalek! Matt Smith will also be appearing on the @Nerdist podcast soon, since he was in town.  Chris Hardwick tweeted about the taping of Tuesday's LLS:  Gah!!! @CraigyFerg's Doctor Who-themed show was MINDBLOWINGLY fun!! Matt Smith FTW! Airs tonight! Thanks, Craig! #whosonfergs
Craig appeared on Lopez Tonight on Monday night.  In case you missed it, the always vigilant RSA General @Malinky2Stoatir captured the moment:
Video courtesy: TVsCraigFerguson

The online newspaper Examiner seized on George's idea to swap shows with Craig for a night.
The student newspaper at the University of California, Riverside reviewed Craig's recent stand up comedy performance at the Fox Performing Arts Center.
The Star Tribune newspaper in Minneapolis says the Washington Post TV critic Tom Shales' assessment of late night television is a bit too bleak, and compliments Craig in the process.
Tonight on the Late Late Show, actor Jeff Goldblum is Craig's guest, along with the Doctor Who special night featuring actor Matt Smith and the @Nerdist Chris Hardwick.  On Wednesday, Craig welcomes actor Russell Crowe and daytime TV host from The Doctors, Dr. Lisa Masterson.  Crowe tweeted:  LA screening tonight.Ellen this afternoon.Mad scotsman tomorrow.Tokyo sunday. Any tips for Tokyo?
© 2010 – 2011, RSANews. All rights reserved.