On vacation in Argentina, Late Late Show producer Michael Naidus tweeted a pair of photos from a Iguazu Falls, a spectacular destination on the Argentine-Brazilian border.  Iguazu Falls … one of two photos taken in opposite directions from the exact same spot. http://twitpic.com/2gmxcf http://twitpic.com/2gmxvn
On vacation in Hawaii, Late Late Show assistant producer Andrea Wayland went scuba diving and tweeted about it:  Scuba was so awesome I did it twice! No sharks – instead lots of fishes and huuuge turtles. Loved it!  On another note the reefs look drastically bare compared to 20 yrs ago. Major major sad face. Follow @JMCousteau to see what you can do.
RSA member @MuhlLeaderNews has a great idea for your tweets:  I'm starting a new acronym like LOL & inspired by Craig Ferguson who says: "Made myself laugh". When I type something funny, it's, MML. We like it!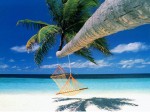 Today is Sit Back and Relax Day.  We hope you're getting to do just that.
© 2010 – 2011, RSANews. All rights reserved.