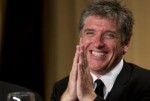 Right!  Sir Michael Caine appears on Thursday's show to promote his book and undoubtedly inspire some cockney-accented comedy from Craig.  Caine is listed as the only guest.  We'll have to watch and see.  Caine himself tweeted:  I'll be on the Late Late Show with Craig Ferguson tonight to talk about my new book The Elephant To Hollywood, tune in! http://bit.ly/bTgGCR Even author and past LLS guest Jackie Collins is excited:  Michael Caine is on my fave talk show tonight…. Craig Ferguson. Not to be missed
Craig spotted Jackie's tweet and responded:  She is right. He's wonderful. @jackiejcollins: Michael Caine is on my fave talk show tonight…. Craig Ferguson. Not to be missed" And then quickly added:  In my previous tweet I was referring to Michael Caine as wonderful. Not me. I'm… adequate. You're more than that, Craig!  He also tweeted about Thursday's show:  Secretariat went 70s cop show cliche on the show tonight. It was like Starsky and Hutch. If they were a horse.
Grant Imahara, creator of Geoff Petersen the robot skeleton sidekick sent a tweet to Craig:  @craigyferg Are you sure @GeoffTheRobot is ready for a pet? A dog is a big responsibility… even a robotic one. Geoff responded:  @grantimahara and @craigyferg …I am a dog lover. Just dog make me give it a bone. I'm just sayin' Geoff corrected himself a moment later.  "Just don't make me," of course. I'm so cockahoop with dreams of a skelly puppy. A robot skeleton dog?  This begs the question:  Would he bury himself in the backyard?
Geoff also tweeted:  Does Marg Helgenberger like me? I said "CSI'm single" and I swear she thought about it. OK for one second, maybe but I swear she did. There's always hope, Geoff.
The Huffington Post is promoting Craig's appearance on stage with comedian Lewis Black next Tuesday.  Do any roboskellies have tickets to this event?  Let us know if you'd like to share your experiences with the rest of the RSA.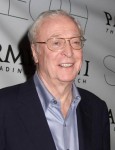 On Thursday's Late Late Show, actor Sir Michael Caine, one of Craig's favorite people to impersonate will return to the studio.  Geoff tweeted:  What did we learn on the show tonight? That Michael Caine blows the bloody doors off! So amazing… Then on Friday, watch for actor, screenwriter and musician Jason Segal, actress Alison Brie and comedian Adam Hills.
And how about this?  Geoff tweeted late on Thursday:  Tomorrow [Friday] nite, could there be dancing shoes? Hmmm And Craig responded:  Peterson speaks truth. Halloween dance number tomorrow [Friday].  Be afraid. We'll be watching!
© 2010 – 2011, RSANews. All rights reserved.