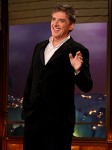 Craig Ferguson may be the hardest working man in show business, even when he jokingly denies actually being in show business. As if a nightly, nationally televised talk/variety show isn't enough, since taking over the Late Late Show in 2005, he has completed a novel and an autobiography, hosted several awards shows, been nominated for an Emmy and a Grammy, won a Peabody Award, performs at corporate events, does countless interviews for national and local television stations, entertainment shows, radio stations, magazines and newspapers, performs stand up comedy shows at venues around the country, is about to produce his second comedy special, is an executive producer for a new sitcom being considered by CBS, started his own production company, works for charitable causes, was the featured speaker at the White House Correspondent's Dinner, has hosted the Independence Day celebration in Boston four times, became an American citizen, got married and is having a second child.  And surely there are many more things he is doing behind the scenes without fanfare.  The talent, energy and dedidation to do it all gives us all something to admire and to which we can aspire.
Craig's opening act, writer/comedian/tour photographer Randy Kagan sent a great tweet out to the RSA:  Fame Adjacent Tour 2010 has come to an end. Thx to all RSA and civilians for your kindness. Stay tuned for entire new show in 2011. We're all looking forward to it!
Scottish newspaper The Herald notes Craig's Grammy nomination, along with that of Susan Boyle.
LLS producer Michael Naidus visited Canada over the weekend and watched some hockey:  Today's lesson: when in Montreal, you are a Candiens fan. Go Habs Go!
LLS assistant producer Andrea Wayland enjoyed the movie theater on Sunday evening:  Geeking out about TRON: Legacy tonight.
Geoff Petersen has tonight's weather report and some reassurance:  Rain coming to LA. @CraigyFerg studio leaks but bones don't rust.
It's another week of all-new episodes of the Late Late Show.  First up on Monday are actress Lucy Liu and  journalist Richard Wolffe.  On Tuesday, Craig welcomes CBS Evening News anchor Katie Couric and author Dennis Lehane, recorded last month.  On Wednesday, it's the always entertaining actor Russel Brand, comedian Al Madrigal and the music of Larry Gatlin and the Gatlin Brothers.  On Thursday, Craig laughs with actress Carrie Fisher and meets 1997 Nobel Peace Prize Winner Jody Williams.  And on Friday, Craig;'s guests are actor Neil Patrick Harris and musican Nellie McKay, who was rescheduled from last week.
Among the guests being taped this week but not yet schedued to appear are comedian Matt Kirshen, talk show host Dick Cavett, actress Kristin Davis, actress Jane Fonda and Mythbusters Grant Imahara. We'll keep an eye on them to see when they are scheduled.
© 2010 – 2011, RSANews. All rights reserved.