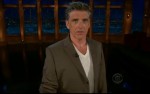 Craig will be taking his obsession with "production assistant" Bridger Winegar to new heights on Tuesday's Late Late Show.  Bridger tweeted first:  If you're more interested in me as a MAN than as a tweeter, feel free to watch tonight's THE LATE LATE SHOW WITH @CRAIGYFERG. And Craig added:  On the show tonight @bridger_w reveals why he's the world's sexiest man. Pixilation cannot conceal his majesty We can only imagine.
Craig's opening act on the road, comedian Randy Kagan, headlines shows around the country as well.  This week, he's doing six shows near Chicago at a club ins St. Charles, IL, with one show Wednesday and Thursday and two shows Friday and Saturday.
The RSA's @beanonacracker had a chance to see Craig live twice last week, first with Lewis Black in Los Angeles and later for his stand up comedy show in San Diego.  She blogs about both shows and has pictures of Craig and Lewis and one of Chris dancing.
If you want to be on the #CraigInNashville seating chart(s), tweet @HMSFox, and if you want to be on the head-count list for Nashville tweetups, tweet @NancyInTampa or @Colleen_Byrne.  Also, if you're in Nashville you may have a chance to meet the RSA's @tzankoff and his creation, @FergyBot4000, who tweeted:  I have just been informed that I will be going to Nashville. I look forward to meeting other #RSA members. Woohoo! *fist pump…sort of*
Geoff Petersen got in a couple of late shots Tuesday night:  Wonder if Wolfgang Puck will make miniburgers. I heard something backstage about checking out those tiny buns. Oo-lala, splash.  // I'm hoping the CBS censors let you see The Fergermeister roll his biiiigg streudel tonight on @craigyferg And he tweeted about Wednesday's show:  @therealstanlee will be here soon to be on the show with Mr @craigyferg! Is see great things. The Adventures of Skelly-Man. Marvelous!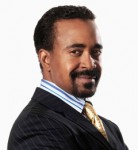 On Wednesday's Late Late Show, Craig's guests are actor Tim Meadows and comic book creator Stan Lee, who may have more to say about his POW! Brigade of Twitter followers and the rivalry with Craig's Robot Skeleton Army.  LLS assistant producer Andrea Wayland tweeted:  Tim Meadows explains a LOT of things tonight on the show that make SO MUCH SENSE!! Be sure to watch. And on Thursday, Craig welcomes actress Rosie Perez and UFC fighter Quinton "Rampage" Jackson.
Friday's schedule has now been updated to included Dancing With The Stars Carrie Ann Inaba and actor Billy Gardell.  We'll let you know when Ewan McGregor is rescheduled.
Thursday, November 11 is Veterans Day in the US and Remembrance Day in Canada; originally begun to mark the armistice ending World War I and now honoring all those who have served in the military.
© 2010 – 2011, RSANews. All rights reserved.