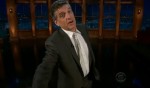 Saturday night's special debut caused quite a buzz but the volcano has been fairly quiet ever since.  The special is still available for US residents on EpixHD.com (see our comedy special page for details) and a DVD release is expected sometime soon.  Please take our poll in the right-hand column of the page; we're curious to know how you saw or plan on seeing the special.
Things get back to normal for a while, as the Late Late Show crew settles in for a few more weeks of new shows before getting a break in mid-March when Craig heads to Denver.  If you are going to see Craig in Denver, please let us know.  We appreciate still pictures (no video, please), blogs, stories and experiences that we can share with the rest of the RSA.
Craig is scheduled for a radio interview at 8:30am ET/5:30am PT (pre-recorded we hope).  Thanks to the RSA's @bgrhubarb for the tweet:  Craig Ferguson will be on Kramp and Adler @fm1021 Monday 2/21 7:30am Central: http://www.fm1021milwaukee.com/morning/#craigyferg #RSA If they post the interview afterward, we'll link to the clip here.
It's a week of all-new episodes of the Late Late Show, beginning on Monday with actress Sarah Rue and journalist Wolf Blitzer.  On Tuesday, Craig welcomes back filmmaker/actor John Waters and actress Malin Åkerman.  Up next on Wednesday is actor/TV host Joel McHale and comedian Greg Warren.  Actor Forest Whitaker and actress Teresa Palmer will be in the studio on Thursday.  Finally on Friday, Craig chats with actress Melissa Leo and host of The Amazing Race Phil Keoghan.
© 2011, RSANews. All rights reserved.