On The Road Again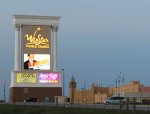 Craig Ferguson's first live comedy tour stop for 2012 has been announced!  He is coming back to the WinStar World Casino in Thackerville, OK (just 75 miles north if Dallas) on January 28th.  Tickets go on sale Friday, December 2nd at 10am central time.  Craig has made the WinStar a regular venue for the past few years and tickets routinely sell out.  Book early to avoid disappointment.  As always, you can check out details of Craig's live shows on our Live Comedy Tour page.  Our thanks to the eagle-eyed @bgrhubarb for spotting the posting.
Band Bumped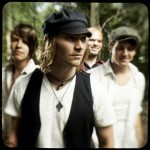 Craig apologized on Twitter when a planned appearance by the band NEEDTOBREATHE had to be bumped for time Wednesday night:
Apologies to @NEEDTOBREATHE who's spot on the LLS was rescheduled at the last minute due to time Sorry. I owe you. #digitalmuffinbasket
We'll update you when the band's pre-taped appearance in rescheduled.
More Craig Tweets
Craig welcomed back Josh Robert Thompson, who returns Thursday as the voice of Geoff Peterson:
"@joshrthompson: Operation: Re-Occupy @GeofftheRobot's Pants begins TONIGHT! #RSA #OGRobot" Welcome back you sick, sick man #cuddles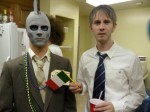 He also retweeted a photo from fans who dressed up as GP and the Fergs for Halloween:
"@MyConstantMusic: My friend & I went as Gp and The Fergs for Halloween. I'm Geoff. Tyler in Saskatoon. http://pic.twitter.com/7u2dO4l8" The hell?
[pullquote] "Personally, I hope he doesn't get out of the campaign. I need Rick Perry. I don't want to spend the next year trying to do jokes about Mitt Romney.''[/pullquote]
Campaign Humor
Craig got a mention in long article in
Vanity Fair
magazine about Republican presidential candidate Rick Perry.  They picked up on his joke that it would be better for comedians if they had someone like Perry as the eventual nominee.
Kristen Bell, Superhero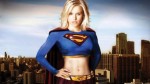 The funny film-making Farrelly Brothers are reportedly making a film of short sketches, poking fun at comic book superheros.  Among the star-studded cast will be Late Late Show regular Kristen Bell as Supergirl, reports i09.com and ComingSoon.net, which also offers a list of the cast announced so far.  Thanks to the RSA's @HMSFox for the link.
Tonight's Guests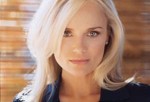 Thursday on the Late Late Show, Josh Robert Thompson returns as the voice of Geoff Peterson while Craig chats with singer/actress Kristin Chenoweth and Entertainment Weekly TV critic Ken Tucker.  Tucker tweeted:
Done with @CraigyFerg taping. Kristen Chenowith strikingly lovely and hoarse (bronchitis ). I, strikingly full- throated and homely
Friday, Craig's guests are actress Ana Gasteyer and actress Beth Behrs.
Two names have been added to the upcoming guest list for tapings in December:  Angst-ridden comedian Richard Lewis and chef Cat Cora.  You can see the most up-to-date guest listings on our Guests page any time.
© 2011, RSANews. All rights reserved.