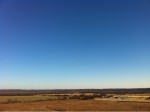 Craig Ferguson is in Oklahoma for a Saturday night of stand up comedy at the WinStar World Casino and returns to Los Angeles on Sunday.  He snapped a photo of the Oklahoma landscape: http://yfrog.com/hsdupzoj Ah Oklahoma. Take that Holland.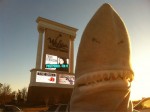 And the folks at the casino sent a funny preview picture from their sign in front of the building.  Wow! @craigyferg was right! Oklahoma does seem to have a shark problem… http://yfrog.com/h7axnvpj The casino live tweeted during Craig's show and you can see what they posted here.  This is just the first of many live appearances for Craig in 2011.  He has eight shows in Denver, March 16-19 plus shows in Windsor, Ontario; Charlotte, North Carolina and Fort Worth, Texas between now and May.  You can learn more about tickets and specifics by visiting our Live Comedy Tour page any time.
Craig is up for a Grammy Award on Sunday in the spoken word category for the audio version of his autobiography American On Purpose but said in an interview with Conan O'Brien that he doesn't plan to attend the ceremony.  NCIS actress Pauley Perrette is behind the scenes at the Grammys, however and you can see what she's up to on the CBS website.
Talk show host Dick Cavett is hosting a series of conversations with Hollywood Legends at Harrah's Valley Center near San Diego. In an interview in the North County Times newspaper about his upcoming events, he named Craig among the best TV interviewers today.  We agree.
Saturday, February 12th is the birthday of Charles Darwin, Abraham Lincoln and the NAACP.  Sunday February, 13th is Get A Different Name Day and Madly in Love With Me Day… a nice thought on the eve of Saint Valentine's Day on Monday.
Note:  Most of the updates to the appearance of our website are done for now… just a couple more are still planned in the next week or two.  Meanwhile, we are continuing to work behind the scenes to tighten things up.  We've updated all of the photos in our posts and repaired some broken links.  We're also switching over to word-based URL's for our posts instead of numbered links.  We're gradually fixing all of those as well, so pardon our dust. Thanks to everyone who contributes story ideas, links and tips to the site.  You make it better every day!
© 2011, RSANews. All rights reserved.