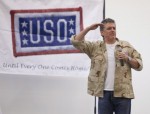 Craig Ferguson's live stand up comedy performance at the WinStar Casino in Thackerville, Oklahoma has been rescheduled from February 5th to Saturday, February 12th due to bad weather.  We're pretty sure Craig won't mind getting the chance to stay home this weekend with his family's newest arrival.  Your tickets are still valid for the new night.  And there are still tickets available for any last-minute travel plans.  Thackerville is 90 minutes north of the Dallas-Fort Worth airport… which itself probably a busy place this weekend due to some sort of sporting event nearby that we've been hearing about.
Craig's assistant Rebecca Tucker sent out the word about the rescheduled show and also tweeted a great picture to celebrate the 70th anniversary of the USO, which Craig has supported by traveling to perform for American troops:  Happy 70th Birthday to the USO! http://twitpic.com/3whw05
Tickets go on sale at Noon ET/9am PT Saturday for Craig's live show at Caesar's in Windsor, Ontario. Check out our live comedy tour page for details and a ticket link.
Our friends at EPIX have posted a new video to preview Craig's stand up comedy special on February 19th, and this one contains extended interviews with several roboskellies with familiar faces and Twitter names including @NancyinTampa @HMSFox @Saries Wick @VampireJess13 and @Diane4Mail.  Check it out on EpixHD.com and scroll down afterward for more preview videos added this week!
Careful viewers of the Late Show with David Letterman Thursday night heard radio host Howard Stern goading Dave into talking about how long he was going to keep doing the show.  Dave eventually said perhaps he'd stay another two years.  Media reports have his current deal expiring approximately in August of 2012, the same time Craig's current contract for the Late Late Show is due to end.  This sent media watchers all aflutter in the blogosphere, including deathandtaxesmag.com, gothamist.com and avclub.com repeating the speculation in New York Times reporter Bill Carter's latest book about late night television that Craig would take over Dave's show upon his departure.  This goes against what Craig has said in many interviews; that he prefers the lower profile and freedom his current time slot allows.  It's still many months away and we'd prefer to wait and see what happens.
If you missed Dave's answer to Howard's question, it's at about 1:30 into this clip:
Video courtesy: Informal2020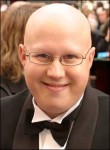 Friday on the Late Late Show, Craig welcomes comedian/actor Matt Lucas.
There are hundreds of people who visit our site every day. If you miss a day here or there, we've added a little feature to make it easier to catch up. If you look near the bottom of the right-hand column, you'll see something called "previous post". It has a summary of the last post and a link to take you there.
© 2011, RSANews. All rights reserved.