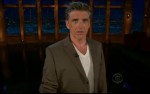 Our friend and RSA member extraordinaire @bgrhubarb has compiled a great new list of Craig Ferguson, Late Late Show and Robot Skeleton Army related links.  Check it out!
Don't forget: All new episodes of the Late Late Show are back tomorrow night!  To celebrate, we'll be opening the RSA News special event live chat room from 11pm-4:45am Eastern Time ( 8pm-1:45am Pacific) Monday for RSA members to talk about the Craig and the show.  Just look for the chat room button under the title bar here on the website Monday evening… sign in and join us!
A few days ago, we put out the call, wondering if anyone had posted the episode of Million Dollar Password where Craig was a guest.  The RSA's own @Colleen_Byrne tracked it down and sent us the link.  We've included all four parts for your enjoyment.
Video courtesy: chadmosher1

As of tonight, a complete guest list for the week has not been published by CBS or our other usual sources. We have seen the tentative lineup for Monday through Wednesday: On Monday Craig returns with all-new episodes and we're sure plenty of vacation anecdotes, plus actor Adam Goldberg and music by Chief. On Tuesday, Craig welcomes 80's heartthrob, actor Don Johnson and author Laura Lippman. Then on Wednesday, talk show host Jerry Springer will be on the show.
On Thursday, a taping is scheduled with actor Billy Gardell and actress Anne Heche and on Friday, the crew is scheduled to tape appearances by Brooke Shields and Dj Qualls. Host of Inside the Actor's Studio James Lipton is also being taped this week for a future broadcast. We'll let you know the updated guest lineups when they are finalized.
© 2010 – 2011, RSANews. All rights reserved.