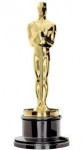 Oscar night is one of Hollywood's biggest events.  If you're involved in the industry, it's a chance to show millions of people around the world some of the year's best work and have it recognized.  If you like fashion, it's one of the best red carpet events of the season where actors and actresses wear their finest outfits and smile for the cameras.  And if you actually live in Hollywood, it's a big traffic-snarling nightmare.  But no matter what you think of the spectacle, it's always big news.  How To Train Your Dragon was  up for two Academy Awards®; one for Best Animated Feature Film, which went to Toy Story 3; the other for Best Original Score, which went to Trent Reznor & Atticus Ross for The Social Network.
During the Oscars, the RSA's @bgrhubarb mused:  RT if u think it'll be a stone cold day in hell b4 @CraigyFerg hosts this or any other awards show anytime soon & are grateful for that fact Apparently, we know for sure one person is grateful for that fact… because Craig himself re-tweeted her post!  Now that's what we call instant feedback, straight from the top.
Australia's Courier Mail caught actress Teresa Palmer's visit to the Late Late Show and her confession that she used to be a graffiti-spraying rebel in her youth.  Their embedded video clip is blocked in the us but thanks to the RSA's dependable @malinky2stoatir, you can see the interview here.  It also includes the reason why "Mars" sounds funny with a Scottish accent.
Thanks to the RSA's @SariesWick, you can hear Craig on a radio game show.
It's an exciting week for the Late Late Show, starting on Monday with the @Nerdist Chris Hardwick, who will bring us along on his visit to last weekend's Doctor Who convention in Los Angeles, plus Craig talks with fashion designer Isaac Mizrahi and actor Patton Oswalt.  On Tuesday, actress Carla Gugino and actor Tom Lennon visit the show.  Then on Wednesday, House fans are buzzing about the LLS return of actor Hugh Laurie.  Another fan favorite, actor Neil Patrick Harris will be on the show Thursday, along with music by the band Tomorrows Bad Seeds.  Finally on Friday, Craig chats with actor Tim Meadows and explorer/author Wendy Booker.
© 2011, RSANews. All rights reserved.