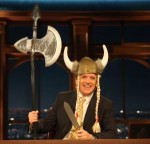 It was a valiant effort, but a stream of RSA tweets and write-in votes weren't enough this time.  Craig Ferguson was not among the top five nominees for Favorite Talk Show Host in the People's Choice Awards.  Because they were not in the top 12 in ratings in their category, neither Craig nor Jimmy Fallon were listed on the nominations ballot, which meant it would have taken a massive write-in vote to crack the top five.  Those nominated included Chelsea Handler, Conan O"Brien, Ellen Degeneres, George Lopez and Oprah Winfrey.  We'd guess that since Conan's new show is generating a lot of excitement and because this is Oprah's last season, those two may have the best chance this year.  The People's Choice Award winners will be unveiled at the awards ceremony on CBS January 5th.
The RSA's @SexyCraigFerg makes a good point:   Well at least HTTYD and KickAss are both nominated… You can still show some Craigy love by voting for both of those films until December 7th.  How To Train Your Dragon is nominated for Best Family Movie and Kick Ass is nominated for Best Action Movie, both of which feature Craig.
And if you are in a voting mood, you can still nominate Craig for a Mashable.com award for "Must-Follow Personality".  First round voting continues through November 29.  When the top five names are announced, final voting runs from December 1st through the 15th.  Winners will be announced January 6th.
If you enjoyed the podcast of Kevin Pollak's Chat Show with Craig, you might want to put in a vote for the show in the podcast awards, perhaps as best video podcast or in the entertainment category.
Are you going to Nashville to see Craig live on stage November 20th?  The RSA's @HMSFox is putting together a seating chart.  If you'd like to be included, just tweet her with show time, seat number and whether you want your Twitter name indicated next to your seat.  She is also helping to organize tweetups in Nashville.  More details about specific dates and times are coming soon.  And of course if you have a review, blog or still pictures from a live show you'd like to share with the rest of the RSA, please let us know.  Tweet us any time @RSA_News.  Craig confirmed Monday that he is taping a new comedy special in Nashville.  A few tickets remain for both the 7pm and 9:45pm shows.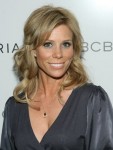 On Tuesday's Late Late Show, Craig talks with actress Cheryl Hines and lets chef Wolfgang Puck boss him around.  On Wednesday, Craig welcomes actor Tim Meadows and comic book creator Stan Lee.
© 2010 – 2011, RSANews. All rights reserved.