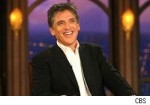 Google searches can be a wonderful thing.  We started poking around to see what the media were saying about Craig when he first started hosting the Late Late Show on January 3rd, 2005.  We came up with a pair of great articles.  One is a syndicated piece from Knight-Ridder newspapers, focusing on Craig and his style of actually listening to his guests, the other is a New York Times profile of Late Late Show Executive Producer Peter Lassally, who understood what a uniquely talented man he found to host the show.
The Detroit Free Press reviewed some late night hosts, including Craig.
Entertainment Weekly's take on Conan's first week includes some nice things about Craig.
When you make your robot skeleton gear purchase at the RSA Store, all proceeds go to charity. Last month for Breast Cancer Awareness Month, that charity was Susan G. Komen for the Cure. For November, store operator @Colleen_Byrne tells us the charity will be Habitat for Humanity. Show off your RSA spirit and help those in need at the same time.
On Friday, Craig's assistant Rebecca Tucker made lemons out of lemonade:  Car is being washed for 1st time in a year. Good news is that I found some missing girl scout cookies in the back seat!
After Sunday's power outages at the New Meadlowlands Stadium during the Cowboys-Giants game, Geoff Petersen just couldn't resist tweeting:  For my tweeps watching Giants-Cowboys in the New Meadowlands… I guess I'm not the only appliance that can be unplugged.
DVR Alert:  Craig will be interviewed by George Lopez on Lopez Tonight on TBS Tuesday night (midnight ET).  Check your local listings for the time "in your region".
Are you ready for another week of all new episodes of the Late Late Show? So are we!  On Monday, Craig welcomes comedian Dennis Miller and actress Bianca Kajlich.  On Tuesday, watch for actor Jeff Goldblum and the newest Doctor Who, actor Matt Smith along with special guest, the @Nerdist, Chris Hardwick.  On Wednesday, actor Russell Crowe will be in the studio.  Wednesday's schedules conflict about the other guest.  It may be either perennial favorite, actress Elizabeth Banks or from the daytime TV show The Doctors, OB/GYN Dr. Lisa Masterson, of whom Craig may have a few timely questions.  We'd guess that if one appears on Wednesday, the other will probably be rescheduled for later in the month.  On Thursday, the schedule lists actor Mark Ruffalo and entrepreneur and author Dennis Lehane.  And finally on Friday, Craig welcomes the always quirky comedic actress/author Amy Sedaris and the Mythbusters, Adam Savage and Jamie Hyneman.
Her segment had been taped quite a while ago.  She had been tentatively scheduled to appear at least a couple of times.  Then last Friday, the LLS snuck in that powerful performance by musician Bettye Lavette without mentioning it beforehand.  Even if it's a last-minute change, we'll do our best to promote it like crazy.  We promise!
© 2010 – 2011, RSANews. All rights reserved.