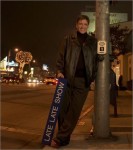 Craig is back home in Los Angeles after a great weekend in Nashville, Tennessee where he performed live on stage for two sold-out crowds at the Tennessee Performing Arts Center.  The shows were recorded in HD for a future television special and DVD release in 2011.  Craig has one more live stand up comedy show on his calendar in 2010, at the Fantasy Springs Resort Casino in Indio, CA on December 3rd.
Craig tweeted after the show:  Thank you Nashville you were incredible. You made a vulgar lounge entertainer feel like a star. I thank you xxx
Craig's opening act Randy Kagan tweeted two more photos, including what appears to be a promotional poster and a closeup of our fearless leader on stage:  Nashville was a good ole time. http://yfrog.com/0olxrhj http://yfrog.com/0k5f5mj Our thanks to Randy for sending great pictures from every stop along the "Fame Adjacent Tour" that we can share with the RSA.
A big group of roboskellies were in Nashville to see the shows, including @SariesWick who tweeted that she took more than 400 photos of Craig during the two shows on Saturday.  We'll link to some of the best when she gets a chance to post them.  We'd welcome your still photos, blogs or stories about your experience in Nashville.  Just tweet us @RSA_News.
Geoff Petersen is anxious for Craig to be back in the studio:  Mr @CraigyFerg had mutual romance with Nashville this weekend. I stayed in the 12′ radius of my cord… Dreaming of tomorrow and Bro-time!
We're hoping this week's guest list resembles the guests that actually appear on the show.  On Monday, Craig welcomes actor/author Ben Stein, host of The Doctors Dr. Lisa Masterson and the music of The Very Best.  On Tuesday, Craig welcomes actor Mark Ruffalo, actoress Kathryn Hahn and comedienne Wendy Liebman.  And on Wednesday, the week's final all-new episode will feature actor Dwayne "The Rock" Johnson and just in time for Thanksgiving, chef Paula Deen.  Due to the holiday, CBS will rebroadcast a pair of recent shows.  On Thursday, watch for the October 25th episode with former Secretary of State Condoleezza Rice and NFL analyst Joe Theismann.  And on Friday, it's the November 5th show with actress/singer Juliette Lewis and philosopher Cornel West, a show that got rave reviews judging by the RSA tweets we've seen.
© 2010 – 2011, RSANews. All rights reserved.