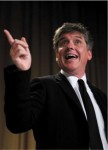 Friday Fact: If Craig's 350,000+ followers were laid out end to end (assuming an average height of five feet six inches tall) they would stretch from the Late Late Show studios in Los Angeles all the way to San Francisco, Sacramento or Phoenix! That's a lot of robot skeletons. But we skeletons don't get out much. We're all in the hollowed-out volcano, awaiting instructions from our fearless leader.
Despite having an all-new episode of the Late Late Show tonight, thanks to the magic of television, Craig will also be appearing live at The Mountain Winery in Saratoga, California just outside San Jose tonight.  He also will appear at Davies Hall in San Francisco tomorrow night.  After an east coast run in October, Craig has added some new west coast dates for November and December, with a Tennessee stop thrown in for good measure:
November 5  Balboa Theatre, San Diego CA
November 6 Fox Performing Arts Center, Riverside CA
November 20 Polk Theater, Nashville TN
December 3 Fantasy Springs Casino, Indio CA
Late Late Show assistant Producer Andrea Wayland points out that it's important for any tweets and emails for Craig to be sent in by 6pm ET/3pm PT each day, to give enough time for them to be considered.  She also reminds us that tweets with jokes built in probably won't be considered.  It's better to let Craig make the joke.
Speaking of jokes, the controversy surrounding Emma Thompson's off the cuff remark about the Isle of Wight last nonth appear to be resolved.  She has apologized to the people of the Island, as reported in several media sources including The Telegraph.
New York Magazine included Craig's "pull my finger" bit with Rashida Jones in its late night highlight reel.
Early in Craig's run in the Late Late Show, he was feeling sick one day but did the show anyway. The result was a very funny segment:
Video courtesy: u27v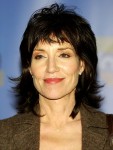 To finish the week on the Late Late Show, Craig chats with actress Katey Sagal and singer Norah Jones.
© 2010 – 2011, RSANews. All rights reserved.