How To Train Your Dragon 2, featuring the voice of Craig Ferguson as Gobber along with the rest of the original cast, is due for release in 2012 or 2013 and according to a new article in The Hollywood Reporter, the film will likely be the second in a trilogy!  The article also reveals a bit about the second film's plot.  THR's report was picked up by Examiner.com and indiewire.com.
The original HTTYD was the big winner over the weekend at the Annie Awards, which recognize excellence in animation.  The film won ten Annies, including Best Animated Feature.  The film also won three awards from the Visual Effects Society for animation, animated character and effects animation.  Congratulations to the entire HTTYD team!
UPDATE:  The stealthy Rebecca Tucker snuck in a tweet we almost missed.  A new date has been added to Craig's 2011 tour, May 1st in Fort Worth, Texas.  Tickets go on sale February 26th.  We've added details to our Live Concert Tour page.
Tuesday marks the 1st anniversary of the Robot Skeleton Army.  On February 8th, Craig joined Twitter and invited fans to follow his account @CraigyFerg.  More than a half million people have already.  The RSA's @lafemmechiquita suggests using the hashtag #HappyTwitterversaryCraig.  We've also seen the shorter #1Year RSA on our stream.  We hope all roboskellies can watch Tuesday's show to celebrate!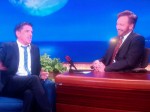 Craig is Conan O'Brien's guest on Tuesday.  Before the show, Twitter user @katlenhart, who works at Conan's show tweeted: Apparently, Craig Ferguson is taping his show, and taking a helicopter from CBS to WB to tape our show on time. #WIN During the taping, Craig's assistant, Rebecca Tucker twitpic'd a monitor in the studio during the interview: Tonight: Craig on Conan! http://twitpic.com/3xuhj1 And afterward, Craig tweeted:  Just taped guest segment on the lovely @ConanObrien show. Gosh he's tall. He is like a giant @bridger_w. #latenightlove TeamCoco.com always posts video clips in case you miss the show on TBS.
The RSA's @SexyCraigFerg, who is a master at finding Craig-related stuff on the interwebs, discovered a wonderful video clip of a ukulele version of the Late Late Show theme song.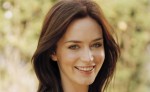 Tuesday on the Late Late Show, actress Emily Blunt and Egyptologist Dr. Kara Cooney are Craig's guests.  Then on Wednesday, comedian/actor/producer Carl Reiner returns to the show, and Craig cooks with chef Cat Cora.
© 2011, RSANews. All rights reserved.