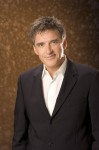 Wednesday night was Scranton, Pennsylvania's chance to see Craig Ferguson up close and personal, as he continued his east-coast stand up comedy tour this week.  On Thursday, it'll be New Brunswick, New Jersey's turn to see what Craig is like outside the studio and on the stage.
Craig's opening act, Randy Kagan sent a great photo:  A hot chick i met on the road. http://yfrog.com/nfu5itj And Craig himself announced his arrival in Scranton:  Arrived Scranton PA. Surprising lovely town- sort of like Hogwarts with liquor stores. Dumbledorable. Randy sent more photos of Philly as well:  Philly 1 Philly 2 Philly 3
(WARNING:  Some spoilers):  The Reading Eagle newspaper in Reading, PA printed a review of Craig's show in their city on Tuesday night.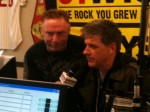 Craig and Randy appeared on Danny Bonaduce's Philadelphia radio show Wednesday morning.  Thanks to the RSA's @ScottishConan who found the link to the podcast, as well as a brief appearance on Philly's local CBS television station.  Randy tweeted a still picture as well:  Douche and Bag. http://yfrog.com/j0sgkej
Geoff Petersen is continuing his obsession with wearing a meat suit:  @grantimahara is right about Gagawear. I see New Jersey butchers caution against wearing red meat. In Jersey I guess it's about orange. GTL!
We had a feeling about this:  A study of late night talk shows found that The Daily Show has the fewest women as guests.  Guess which late night show has the most women as guests?  The Hollywood Reporter interviewed the study's author.
The RSA's @Rick_Sincere was at Craig's show in Charlottesville, Virginia Sunday evening and posted several pictures on his Facebook account which he kindly shared with us.  Thank you to all of our contributors for sharing their pictures with the rest of the RSA.  If you have pictures or a blog post you'd like to share, just let us know by tweeting @RSA_News.
The RSA's @Malinky2Stoatir will be tweeting seating charts of RSA members at both of Craig's shows at Carnegie Hall in NY on Saturday.  Tweet Mal if you'd like to be included on the charts.  And tweet @Colleen_Byrne if you're planning to attend the RSA tweetup at the Carnegie Deli on 7th Avenue and 55th Street on Saturday at 4:30pm between Craig's shows.  Hashtag your tweets with #CraigyAtCarnegie for conversations related to those events in New York.  Have a (non cheeky) question you'd like to ask Craig? Tweet your question to @HMSFox who is meeting him backstage on Saturday thanks to her winning auction bid.  Limit two questions per person.
Craig isn't listed as a ballot choice for best talk show host on the People's Choice Award ballot but you can vote for him as a write-in candidate.  You can also tweet your nomination by tweeting:  Craig Ferguson #talkshowhost #peopleschoice We are told by sources at the People's Choice Awards that those placed on the ballot were determined by television ratings, which means Craig and Jimmy Fallon were just below their radar.  The top five vote-getters in the preliminary voting will be nominated, so it will take an aggressive effort by the RSA to push Craig into the top five.
Craig's sister Lynn Ferguson's one-woman show wraps up Wednesday night in Los Angeles.  Did any RSA members attend?  We'd like to hear your story.  Just tweet us @RSA_News.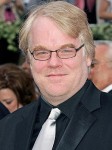 On Wednesday night's Late Late Show, you'll see the September 13th episode when Craig welcomes actor Philip Seymour Hoffman.  On Thursday, CBS rebroadcasts the September 15th show with comedian Don Rickles and actress Ellie Kemper.
© 2010 – 2011, RSANews. All rights reserved.