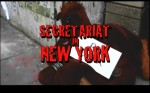 The day has arrived.  On Friday's Late Late Show, we're going to share in the experience that is "Secretariat in New York".  As Craig pointed out, the last time they promoted something like this, it was Salman Rushdie at a party at Elton John's house.  As Geoff Petersen tweeted:  From Bony, re: the Pony. You won't believe what our Secretariat got up to in NYC! Don't miss tonight's @craigyferg. Neigh, don't.
The newest Doctor Who tribute episode got lots of media attention for the musical opening number and Alex Kingston befuddling Craig about "rabbits".  Among those covering the show were doctorwhotv.co.uk, anglotopia.net, BBC America, New York Magazine and TVSquad.com.  And we must say, pound for pound, Thursday's LLS was one of the funniest shows in recent memory.
There is yet another online award that Craig could be nominated for, although this one is a bit higher in visibility than most.  The Shorty Awards honor the best microbloggers on Twitter, Tumblr and elsewhere.  There are various categories but this contest has an interesting twist if you look carefully at the rules.  Voters are allowed to come up with their own category.  If enough people cast votes in that category by the end of January, it could be declared official and be eligible for an award in March.
A modest proposal:  If the RSA is going to vote like crazy in this contest, may we suggest starting a category and voting for Craig in it?  Perhaps Talk Show Host?
Here's why:  There are many different categories and Craig could fit in at least five of them:  Author, celebrity, entertainment, humor and television.  However, "author" invites all sorts of people from Stephen King to Snooki.  In categories like "celebrity" or "entertainment", the relentless Twitter forces of Justin Bieber may eventually swamp other competitors.  In "humor", there are hundreds of non-celebrity daily wits with big followings and in television, Conan O'Brien is already number three in the nominations but he could quickly be overwhelmed by shows like American Idol, Glee or others.
Among the existing categories, Craig's best chance may be in the television category.  But if enough people vote in a #talkshowhost category, there could be some momentum created.  Leave your thoughts in the comment section below.  Worth a try?  Just another web contest?  Custom category or use the existing ones?  We welcome your feedback.
Friday on the Late Late Show, just days after the story broke that she was no longer dating Macaulay Culkin (don't worry, we had no idea either), Craig talks with Black Swan actress Mila Kunis, and we'll see a performance by comedian Geechy Guy from the Dirty Joke Show at Hooters Casino in Las Vegas.  He tweeted:  Tonight. 12:30 a.m. Me: Craig Ferguson. CBS. Late Late Show. You: Watch? DVR? @CraigyFerg @eonline
© 2011, RSANews. All rights reserved.