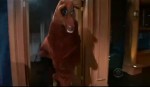 After hearing about the taping at Hollywood Park racetrack a couple of weeks ago, the hollowed out volcano finally had a chance to see the Late Late Show's version of Secretariat racing against Disney's version of Secretariat and a jousting horse from Medieval Times.  Perhaps the funniest part of the sketch was when the race started.  Thanks as always to the RSA's General @Malinky2Stoatir for posting the clip for everyone to enjoy.
Video courtesy: TVsCraigFerguson

Geoff Petersen enjoyed the Secretariat sketch:  Watching that video on @craigyferg wishing I'd gone to Hollywood Park. No Secretariat, but I have a horsie, too. You know where! And he's enjoying his weekend:  Saturday funtime. #christmasstuffinyourpants. He also thanked his creator Grant Imahara for stopping by the studio on Friday, taping an appearance for later this month:  Oh and thanks to @grantimahara for the house call today. He gave me a clean bill, tight nuts, and left with a mouth organ. Oh my! Grant tweeted that while he wouldn't be on Friday night, he'd be on soon and making some music:  Sorry peeps, I will be appearing on The LateLateShow next week. Will let u know when so you can catch my harmonica duet with Craig!
Late Late Show producer Michael Naidus is a big fan of Friday night's musical act:  2 random but true facts. (A) I go to about two live concerts a year. (B) I once flew cross-country to see @nellie_mckay on Broadway.
Each year, Google announces its "Zeitgiest" report of the most searched terms in a variety of categories.  @LLS_Episodes noticed that Craig ranked third in the fastest-rising TV show hosts category for 2010, behind Sarah Silverman and Conan O'Brien but ahead of Oprah Winfrey and Ellen DeGeneres.  Thanks to the RSA's @Fronneke who spotted a Gather.com article about the category.
Saturday, December 11th is National Noodle Ring Day, International Mountain Day and International Children's Day to mark the birthday of UNICEF.  Sunday, December 12th is the anniversary of the patenting of the hovercraft, Poinsettia Day and National Ding-a-Ling Day (do your own joke #inyourpants).
© 2010 – 2011, RSANews. All rights reserved.