Late Late Show assistant producer Andrea Wayland confirmed that the show and staff are on summer break this month.  The LLS studio at CBS Television City will be quiet until August 30th.  This week will feature all new shows with segments taped over the past few weeks, followed by two weeks of the re-run fairy before new episodes start up again.  We'll post each week's complete guest list on Sundays as usual.  And if you have any questions for Craig for tweets and emails, you may want to wait until August 30 to ask them.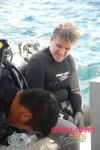 One final post about Shark Week (we know there have been a bunch). Thanks to the wonderful @Malinky2Stoatir, if you missed Craig's Shark Week special, you can see it online. Note:  When you open it, you may have to click the "play" button in the center a couple of times and close the advertising windows before the show starts running (when the play button turns green, it's for real).  Depending on your download speed, it may be useful to pause it at the beginning and let some of the show load before hitting play again to avoid buffering.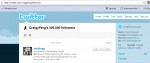 Craig has reached 300,000 followers on Twitter, achieving that feat after only a little over six months. Thanks to the RSA's @SunnyAnnie84 for capturing the moment.  We'll have to wait until the end of the month to see if there will be any sort of celebratory dance.
Craig had fun over the weekend, including a (sort of) star sighting, as he tweeted:  Spent all day at Legoland with my son during Star Wars weekend. Gushed like a fangirl when I met Darth Vader. He's my Justin Bieber
Tonight on the Late Late Show, Craig talks with actress Lindsay Sloane and we'll hear music by Vampire Weekend.
© 2010 – 2011, RSANews. All rights reserved.