How Sweet It Is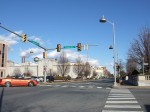 After wowing the crowds in Easton, Pennsylvania on Sunday and Ridgefield, Connecticut on Monday night, Craig Ferguson's fall Live Comedy Tour moves in to Hershey, Pennsylvania on Tuesday, home of chocolate maker the Hershey Company. The photo shows the intersection of Chocolate Avenue and Cocoa Avenue downtown, and note that the street lights are shaped like Hershey kisses. This town takes its chocolate seriously.
Greg Freguson?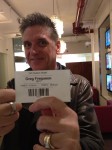 On his way from Connecticut back to Pennsylvania on Monday, Craig stopped in at Comedy Central in New York, where he was presented with a guest name tag reading "Greg Freguson." The president of his production company, Rebecca Tucker, was not amused:
At Comedy Central in NYC with showbiz hopeful Greg Freguson. #lame pic.twitter.com/eoBTJD2W
Glamour Backstage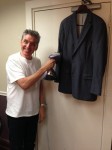 Craig's longtime assistant on his road trips is Phil Cottone, who tweeted a great picture of the glamorous backstage world:
now this is rock and roll #lifeontheroad #herecometheplayaaaas @CraigyFerg @joshrthompson pic.twitter.com/67f0zh2E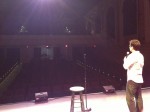 He also sent a photo of Josh Robert Thompson doing a pre-show microphone check on stage:
@joshrthompson crushing pic.twitter.com/lU9t62q1
Keeping Busy on the Road
As for Craig himself, he caught a movie on Sunday night:
Off to 1030 screening of Taken2 in NYC. Hope big Liam releases the Kraken. #notcode #okmaybe
Your Stories
More stories are coming in from hobos who've seen Craig's shows this week, including the RSA's Peaches who said: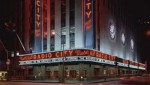 The Radio City Music Hall show was fantastic!!! Craig slayed us with laughter and Josh was hilarious as himself (Geoff isn't his only persona y'all!)…the show ended entirely too soon! If you have tickets to a future Craig show, skellies, you will not be disappointed! 🙂

The RSA's Marilyn, added this: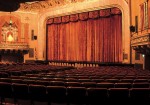 Just got home from seeing Craig in Easton PA. It was a HILIAROUS show. I laughed so much my face hurt when it was over, all to quickly. Craig is so animated and all over the stage, it is just a joy to watch. Loved hearing him 'un-bleeped' and finding out that what I though was being bleeped on TV is what it really is. Wish I could attend more of his shows.
Josh was a GREAT opener, all the better as I know his work. He is great fun on his own too.
And here is a wonderful story from the RSA's @cozyhobo: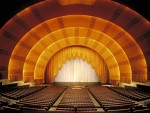 Here's an anecdote from RCMH. We (Jenita & I) had great seats. 10th row dead center. We were visiting with many Skellies in the audience. We noticed Michael Naidus a few rows behind us. There was a woman sitting by herself behind us. So I said Hello. She was adorable. Very petite, & young I thought. We asked her if she was a member of the RSA. "What?" Robot Skeleton Army. Oh she said laughing. I'm Josh's mom. "Oh we heard you were here." You did? totally confused. How? Twitter we told her. Then the 3 of us had a lovely conversation. She told us Josh had been doing this since he was 8 years old. We told her how we'd come from all over the world for the show, & how much we loved Josh. Later I overheard her tell that to Rebecca. (Who was sitting 1 seat away from me). While Josh was performing some of his more racy material, he'd say"Sorry Mom" & she would laugh so hard. We really liked her. And she looked too young to be his mom. Really. Just 1 of the zillion amazing things from RSA International in NYC.
Remember, we want your stories! You can post your photos from the tour on our Flickr photo page and you can use our Contact Us form to send us your story as well as upload photos. You can also tweet us a link to your blog or website, which we can post and share with the RSA. Keep those stories coming!
Reviews and Previews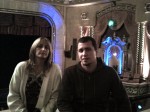 Nearby Harrisburg's Patriot-News newspaper interviewed Craig before the show. And (Note: Spoilers!) Easton's Express-Times reviewed his show in Easton on Sunday night. The RSA's @cozyhobo spotted a blog post by writer Gail Worley, reviewing Craig's show at Radio City Music Hall. And the RSA's @GuySerota and his family saw Craig in Easton. He sent us a photo of his wife and son in the theatre before the show.
Craig Signs Autographs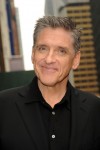 Following his appearance on The Late Show with David Letterman last Thursday, Craig stopped to sign some autographs and have his picture taken with fans waiting outside the Ed Sullivan Theater. As you can tell from the video from the RSA's @003lili, Craig is generous with his time, making sure that everyone who wanted a photo or a signature got one; even coming back at the last minute for "just one more."
Video courtesy: 003Lili

Tonight's Guests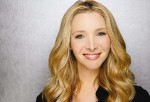 With Craig out of town, the re-run fairy has flown in for a visit this week. Monday on the Late Late Show, we'll see a rebroadcast of the August 30th show with actress Lisa Kudrow and comedian Marc Maron. On Tuesday, watch for an encore of the September 5th episode with actor Jeremy Irons and actress Monica Potter.
Added to the list of future guests is fashion expert Carson Kressley. You can see the most-up-to-date listings on our Guests page.
© 2012, RSANews. All rights reserved.