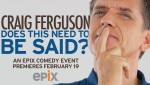 Craig Ferguson's stand up comedy special Does This Need To Be Said debuted Saturday night on EPIX.  Now that the debut presentation is over, you can see the special on EpixHD.com any time.  See our Epix Stand Up Special page for details.
As for Saturday night itself, it was an adventure.  After spending weeks refurbishing the rsanews.com website, checking and double-checking everything and being ready… our site crashed, just before the special began.  We're not sure if it was because of a big rush of the Robot Skeleton Army all at once but we were on the phone with our hosting provider and the site was completely down for at least twenty minutes and in rough shape for longer than that.  If you tried to log in to the site between 7:45 and 8:30pm ET Saturday night, please accept our apologies.  We've been online here with you for nearly a year and never crashed until tonight.  It was terrible timing but we're back up and running now.
As for EpixHD.com, they had some troubles of their own.  Several skellies reported having difficultly logging on, or when they logged on, they couldn't get the program to start.  The good news is that now that the debut is over, you can see the show online any time, and the demand should slow down.
Again, we're sorry if you couldn't see our site or join the live chat as the show was going on.  We're bribing our hosting service with promises of chicken and candy, to do better next time.
There is other news going on as well: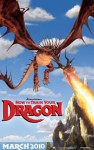 How To Train Your Dragon has been nominated for a Nickelodeon Kids Choice Award for Favorite Animated Movie.  Also nominated are Despicable Me, Shrek Forever After and Toy Story 3.
Our friends at EpixHD.com sent us a final interview clip with Craig talking about his comedic influences.
As Craig has discussed in several interviews over the past week, the special represents the hard work of building and fine-tuning his stand up act.  Now that the special is being released, Craig will be working on lots of new material for his new tour.  There are still a few tickets left to see him in Denver in March, as he sharpens his new act at the Comedy Works.  Then he moves on to Windsor, Ontario and a southern swing through Tulsa, Austin and Fort Worth.  See the most up-to-date tour itinerary and ticket information on our Live Comedy Tour page any time.
We keep track of the guests scheduled to appear on the Late Late Show so you don't have to.  Want to know who's going to be on the show?  We'll include our usual weekly list in our Monday post but you can check out the up-to-date guests page any time.
We hope you enjoyed the special!
© 2011, RSANews. All rights reserved.