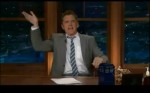 A Craig Ferguson fan on Twitter by the name of @KreuzersKorner spotted Craig at the Grove shopping center in Los Angeles on Tuesday.  Sid the cussy rabbit was along and they were working at a lemonade stand.  Check out the pictures of Craig (in the background), Sid at the stand and a disclaimer… because a crew was there filming, perhaps for a future segment on the show.
It's a great day for America but not if you're Charlie Sheen.  CBS and Warner Brothers have shut down production of Two and a Half Men, according to People Magazine and many others.
Michael Tobin tweeted today that after recording at the studio late last year, Stackridge will be on the Late Late Show soon:  Just heard the exciting news. STACKRIDGE will be on The Craig Ferguson Late Late Show on Monday March 14th . A good day for America indeed
UPDATE:  Attention Whovians!  The filmed segment with the @Nerdist Chris Hardwick at the Los Angeles Doctor Who convention last weekend is due to air on the LLS Monday. February 28th!
TVSquad.com liked Joel McHale's story on Wednesday's show about Don Rickles at Craig's Christmas party.  And tv.com liked the banter between Joel and Craig.
The folks at heyUguys.co.uk have the latest poster for this summer's Winnie the Pooh film, featuring Craig as the voice of Owl.  It looks like they're in a sea of honey… or as Pooh spells it, H-U-N-N-Y.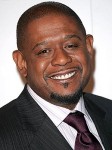 Thursday on the Late Late Show, Craig talks with actor Forest Whitaker and actress Teresa Palmer.  On Friday, actress Malin Åkerman , who was bumped on Tuesday, will be on the show, along with TV Host Phil Keoghan.
© 2011, RSANews. All rights reserved.