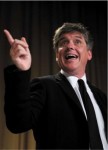 Canada's Windsor Star is previewing upcoming events at Caesar's, including Craig's live stand up performance on April 23rd.  Tickets for the show are still available.  Also on our Live Comedy Tour page, the last of Denver's Wednesday, March 16th tickets have been sold but tickets remain for a pair of Sunday, March 20th performances.
Craig's assistant Rebecca Tucker is back in training:  Proud to be running the Marine Corp Marathon in October for Team USO!
The LLS Wrapup:  The Detroit Free Press had an article about the pizza waitress who appeared on the opening segment of Tuesday's LLS.  The Washington Examiner heard Craig's joke about the President's parent-teacher conference.  Movieline.com liked the dynamic between the sultry Catherine Deneuve and the appreciative Craig Ferguson.  TVSquad.com focused on Topher Grace and Craig talking Tuesday about how Bob Saget's stand up comedy differs from his image on Full House.  And Hollywood.com enjoyed Topher's efforts to create a glazed-over look.
The New York Times reports Craig's "Teen Media" monologue was used to open a concert by rapper Lupe Fiasco.  Thanks to @SexyCraigFerg for the heads up.
Good news for Doctor Who fans: New episodes are coming to BBC America on April 23rd, according to the @Nerdist Chris Hardwick, who also posted an excellent mashup showing what the DW opening credits would look like if Joss Whedon produced them.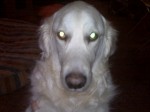 The RSA's @DariaBilowus sent us a picture with this tweet:  I think I have watching Geoff to closely. http://yfrog.com/h76eansj Maybe the effect wears off after a while.  Keep everyone in the household under observation.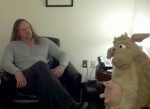 Country singer Trace Adkins will be performing the song "Brown Chicken Brown Cow" on Wednesday's LLS.  According to Nashville.com, the singer says he should have released the tune as a single.  Craig added this tweet:  Good Lord @TraceAdkins was funny on the show tonight. But his puppet is pretty dirty. #thatscode.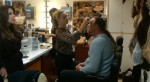 Wednesday on the Late Late Show, along with Trace Adkins (thanks to @incountrymusic for the behind-the-scenes photos), watch for actor Windell Middlebrooks.  Then on Thursday, Craig welcomes comedienne Wanda Sykes and actor Kevin McKidd.
Craig favored us with an unexpected tweet late Wednesday evening:  Weltanscaung Followed seconds later by this:  Oops. Ass tweet. As you were everyone. Xxx Shortly afterward he realized:  Hmmm. My ass tweeted a word that looks suspiciously like weltanschauung. I find that encouraging in an odd way. Indeed.  Weltanschauung is the German for "world view".  A totally new philosophical angle on things.
© 2011, RSANews. All rights reserved.