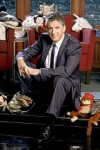 The folks at Time Magazine did a Q & A interview with Craig about a year ago, where he talks candidly about his past.
The British newspaper The Independent did an extensive story on Craig in 2008.
In 2008, Craig appeared on the brief revival of the game show Password. We stumbled across a promotion for the show.
Video courtesy: computerwheelie

Does anyone have the episode? A post of Craig's moments would be most welcome.
It's an all-new week of the Late Late Show, beginning Monday with actress Lindsay Sloane and music by Vampire Weekend.  On Tuesday, Craig welcomes actor David Duchovny and author Dave Barry.  Then on Wednesday, get ready for a comedy sketch featuring the one and only Betty White, plus Craig talks with actress Maggie Gyllenhaal and music by Julie Gribble.  English actress Emma Thompson and comedian Carlos Alazraqui arrive on Thursday and on Friday, watch for a comedy sketch with Alfred Molina, emails with @Nerdist Chris Hardwick and an interview with actress Anna Kendrick.
© 2010 – 2011, RSANews. All rights reserved.