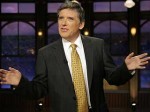 It's a great day for America, everybody.  No really, it is.  And it's also a great day for Austalia because the new Eleven Network confirmed on Twitter today that it will be carrying the Late Late Show.  Its sister company, the Ten  Network has carried Late Night with David Letterman for several years.  The Eleven Network will launch next year.  So in the near future, RSA members in Australia will be able to get their daily dose of our fearless leader!
Craig resumes his stand up comedy tour at the end of the week in New Hampshire.  It will be a busy month on the road for his chattiness, including his chance to play New York's Carnegie Hall.  Here's a look at all of Craig's confirmed appearances that we know of:
2010 Tour Dates
Oct 1 Hampton Beach Casino Ballroom, Hampton Beach, NH
Oct 2 University of Rhode Island, Kingston, RI
Oct 3 Midland Theatre, Kansas City, MO
Oct 16 The Warner Theatre, Washington DC
Oct 17 The Paramount Theatre, Charlottesville, VA
Oct 18 DuPont Theatre, Wilmington, DE
Oct 19 Sovereign Performing Arts Center, Reading, PA
Oct 20 Weinburg Theatre, Scranton, PA
Oct 21 State Theatre , New Brunswick, NJ
Oct 22 Mohegan Sun Casino Arena, Uncansville, CT
Oct 23 Carnegie Hall, New York, NY
Nov 5 Balboa Theater, San Diego, CA
Nov 6 Fox Performing Arts Center, Riverside, CA
Nov 20 Polk Theater, Nashville TN
Dec 3 Fantasy Springs Casino, Indio CA
Some locations may have a second shows if supported by ticket demand.  Other dates may be added.  Please check local information for specific times and venue details.
Geoff Petersen's voice, actor Josh Robert Thompson sent a tweet about last Wednesday night's premiere of You Again:  For those asking: Geoff Petersen's dialogue was NOT pre-recorded on the red carpet-that was all done LIVE! #RSA #gayrobot
It's another great week of all-new episodes of the Late Late Show in store for you.  On Monday, Craig welcomes producer/director Guillermo Del Toro and actress Sela Ward.  On Tuesday, it's actor David Boreanaz from the CBS series Bones and actress Melissa McCarthy.  Then on Wednesday, Comedian Stephen Wright stops by, along with author Sloane Crosley (held over from last week) and country singer Blake Shelton.  Then on Thursday, it's actor Edward Norton and actress Odette Yustman.  Finally on Friday, Craig chats with actress Carey Mulligan and comedian Marc Maron.
© 2010 – 2011, RSANews. All rights reserved.