Craig in DC to Tape New Special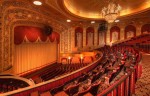 Craig Ferguson is coming back to the Warner Theatre in Washington, DC for two live stand up comedy performances on Friday, November 16 at 7pm and 10pm. Find links to both shows on our Live Comedy Tour page and use the presale code HORNS to get your tickets before the general public. LiveNation, which is handling ticket sales for the shows, confirms that both shows will be taped and the best parts woven together to become Craig's next comedy special!
Ticket Contest
If you live in Washington, DC, Maryland, Virgina or West Virginia, you can enter a radio station contest to win tickets to see Craig at the Warner Theatre. Again, you MUST be a resident of DC or the states mentioned to be eligible, as per the radio station's contest rules.
Guest Update

On Friday, August 24th, we'll get to see the August 8th episode (the final episode taped in Studio 58) one more time, featuring comedian/podcaster the @Nerdist Chris Hardwick and actress Carla Gugino. New episodes from Studio 56 at CBS Television City begin on Monday, August 27th. Also added to the list of upcoming guests is comedian Nick Griffin. You can see the complete listings on our Guests page.
© 2012, RSANews. All rights reserved.