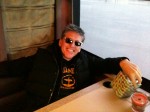 Craig spent his Saturday evening in the nation's capitol with a stand up comedy performance at the Warner Theatre and heads for Mr. Jefferson's town, Charlottesville, Virginia on Sunday.  Craig has been tweeting about the journey:  All night bus ride from Rochester to DC. Watching Godfather trilogy. Hope I fall asleep before #3. Thanks RIT. You were adorable.  http://yfrog.com/my5z2vj Arrived DC.  Arrived Warner Theater DC. Handwritten note left for me by @bobsaget. I read it. I feel dirty & used. Thanks Bob. You know how to please me.
Craig's warm up comedian and friend Randy Kagan tweeted a pre-show picture:  Backstage at the Warner. We had our pregame faces on. I love DC crowds. http://yfrog.com/mhpcjnj #RSA Craig's assistant Rebecca Tucker is having a good time:  27 courses at Mini Bar. Almost busted out of the stretchy pants And Geoff Petersen chimed in:  @CraigyFerg in our nation's capital. Perhaps official business for #RSA? Oo, dare I hope?!
If you haven't seen the clip where Geoff Petersen, via Josh Robert Thompson, does Morgan Freeman TO Morgan Freenman, check out JRT's tweet:  My name is Josh. Josh ROBOT Thompson. Watch me blow Morgan Freeman's mind. http://tinyurl.com/282f4gq #RSA
Not long after he took over the reins at the Late Late Show in 2005, Craig was interviewed on CBS' Early Show by Harry Smith.
With Craig on tour all next week, we'll have a visit from the re-run fairy on the Late Late Show.  We'll post the full schedule tomorrow.  All new-episodes will return on Monday, October 25th.
Saturday, October 16th is Dictionary Day, School Librarian Day and Learn A Word Day, mostly because it's Noah Webster's Birthday.  Sunday, October 17th is the birthday of the Cadillac, the National Geographic and Hollywood Squares… three of the classiest things ever.
© 2010 – 2011, RSANews. All rights reserved.