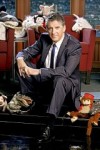 Craig was in Riverside, California Saturday night for a stand up comedy performance. We hope to post any reader pictures or stories from the weekend late Monday night. His next live appearance will be November 20th, in Nashville, where his shows will be taped for an upcoming comedy special and DVD. We're told that both shows are nearly sold out. Craig will also be in Indio, CA on December 3rd, which appears to be his final live show for 2010.
Craig's opening act, Randy Kagan will appear in St. Charles, IL November 10-13.
DVR Alert: Craig will appear as a guest on the new CBS daytime talk show The Talk on Monday, November 8. Check local listings for the time "in your region". Craig is also expected as a guest on Lopez Tonight on TBS on Tuesday, November 16.
Since politics have been on people's minds this week, we thought it would be a good time to re-post Craig's speech at the White House correspondent's dinner a couple of years ago. Craig is entertaining but also gets in a few shots as the assembled politicians, government officials and media. He is an American "on purpose" after all.
Video courtesy: CSPAN

Saturday, November 6th is the halfway point of autumn, Basketball Day and Marching Band Day. Sunday, November 7th is Notary Public Day, Hug A Bear Day and Magazine (those sort of glossy, papery blogs) Day. Also, Daylight Saving Time ends late Saturday night/early Sunday morning in the US and Canada. "Fall back" by setting your clocks back one hour. Unless of course you live in the State of Arizona (except the Navajo Reservation) or most of Saskatchewan or parts of British Columbia… which don't observe daylight time. Does anybody really know what time it is? Does anybody really care?
© 2010 – 2011, RSANews. All rights reserved.