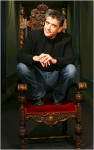 The RSA's @malinky2stoatir has spent the past two years, dutifully posting every new episode of the Late Late Show for fans to enjoy.  Mal made a point today to honor some of the dedicated YouTube users who came before, posting hundreds of shows.  Longtime fans may remember that before Mal there was RoQu3tO, rock3rgyrl, Philly (aka Phillyzero, Phillyfinale, PhillyGotDeletedAlot) and 0mniscient.  Thanks to all of their efforts, the web is filled with Craigy goodness.  Happy anniversary, Mal… and many more.
Craig's assistant Rebecca Tucker has been vacationing in London and tweeted a pair of fun observations on Friday: [quotetweet tweetid=51214921471492096] [quotetweet tweetid=51216433635540992]
Thursday evening, Craig tweeted that he was at the Staples Center to see the Kings and Sharks play hockey and joked that he wanted to ride the Zamboni.  We're not sure if Craig noticed, but the LAKings tweeted him back and said: [quotetweet tweetid=51143779532541952] Are we the only ones who think this could be a great remote segment someday?  We're hoping LLS Producer Michael Naidus saw the exchange.
As for Craig, he got some positive comments from the announcers at the game.  Thanks to the ever-vigilant @SexyCraigFerg for finding the link.
Video courtesy: sharkieQue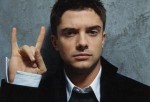 Friday on the Late Late show, enjoy the March 8th episode with actor Topher Grace and actress Catherine Deneuve.  New episodes return on Monday, March 28th.  Check out the updated list on our Guests page.
We quote a lot of tweets here on the website. To make them stand out a bit more, we're trying a new thing. Instead of just showing them in italics, we're trying a fancier "display" mode. Let us know if you like or don't like it.
© 2011, RSANews. All rights reserved.