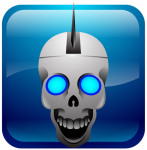 Welcome to the Hollowed Out Volcano! On this page you'll find announcements, and special notes of interested to the growing Robot Skeleton Army community. Craig Ferguson draws thousands of people to his stand up comedy performances, has authored two bestselling books and has more than two million followers on Twitter. A two-time Emmy Award winner and two-time Grammy nominee, Ferguson has been entertaining America for more than twenty years.
As fans, we like to keep up to date with what our fearless leader is doing.  We hope you find our website a quick and easy place to find the latest information you're looking for and what Craig and Company are tweeting about.

Announcements
With his daily SiriusXM radio show in full swing, Craig has scaled back on touring across the U.S. and Canada, but still plans to do some stand up comedy from time to time. And he does do the radio show live on stage periodically. Keep an eye on our Live Comedy Tour page for Craig's upcoming live stand up comedy appearances and radio shows.
Contributors Welcomed – Submission Guidelines

Audio/Video/Photograph Guidelines for Studio and Live Performances

Website Testing
We test our site with IE, Edge, Firefox, Chrome, Opera, Safari and iOS.  If you notice that something doesn't look right or isn't loading correctly, please let us know and we'll do our best to repair it as soon as possible.

What our readers say
We are honored to have Craig Ferguson following us on Twitter.  He retweeted us once in October of 2010, and in November of 2011 he sent out a "Follow Friday" tweet that introduced many new people to our website.  Thanks, Craig!