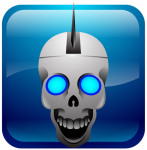 Welcome to the Hollowed Out Volcano! On this page you'll find announcements, and special notes of interested to the growing Robot Skeleton Army community. Craig Ferguson draws thousands of people to his stand up comedy performances, has authored two bestselling books and has more than two million followers on Twitter. A two-time Emmy Award winner and two-time Grammy nominee, Ferguson has been entertaining America for more than twenty years.
As fans, we like to keep up to date with what our fearless leader is doing.  We hope you find our website a quick and easy place to find the latest information you're looking for and what Craig and Company are tweeting about.

Announcements
Craig is actively touring across the U.S. and Canada. Check out our Live Comedy Tour page for Craig's upcoming live stand up comedy appearances.
Contributors Welcomed – Submission Guidelines
It takes a lot of work to keep the tour listings current, monitor the web for Craig-related news stories and interviews, and to find all of the little tidbits of information we publish, so we welcome your help to find news items and make our posts the best they can be.  Several RSA members regularly post links to new information on their Twitter streams and we are also interested in your thoughts about Craig, his projects and more.
Our guidelines are pretty simple:  Want to write a post for us?  Great!  Have memories of a seeing Craig live, getting an autograph or meeting him?  Fantastic!  We can post your story here or link to your fan page, blog post, animated gif, wallpaper or nearly any other Craig-related thing you'd like to share.  Please note, we cannot post or link to video taken at Craig's live performances, or any still photos or video taken inside television studios for legal reasons.  Otherwise, the door is open… please share your stuff with us!  Just tweet us your links or send more detailed information using our
Contact Us
form.
Please note that the names "Robot Skeleton Army News", "RSA News", "RSANews", "RSA_News" and our logos, including the skull, its backgrounds and stylized versions of our names are protected by copyright and may not be used without written permission. Please do not use our logo on any website, Twitter, Facebook or any other location. Please see our Terms of Service at the bottom of this page for details.

Audio/Video/Photograph Guidelines for Studio and Live Performances
While these guidelines are not official and have not been approved by Craig or his management, they do cover the essentials as we understand them and we strongly recommend that they be followed by fans:
No Audio/Video Recording at Live Shows
Recording audio and/or video of Craig's live stand up comedy performances is a violation of federal copyright law. Even if the person recording or distributing such audio or video material does not profit directly from making the material available to the public (online, for example) it can cut directly into revenue from ticket sales, future broadcasts, DVD sales and more. In other words, if you record and/or distribute Craig's live shows, you are taking money out of his pocket. If found in violation of copyright law, the person who recorded and/or distributed the material could face triple the actual damages caused, attorney's fees and court costs, as well as criminal penalties up to a quarter million dollars in fines and five years in prison. We cannot be more clear about this: Do not record Craig's live shows!
No Audio/Video Recording or Still Photographs at Television Shows
Audio/video recording and still photography are prohibited during tapings of any of the television shows on which Craig appears. The producers strictly enforce this policy because it violates copyright law and could impact their ability to profit from the broadcast of the show. If you are found violating this policy, you could face ejection from the studio, confiscation of your recording device(s) and legal action.
What about still photographs at live shows? Maybe.
Sometimes sometimes allowed during live shows (depending on the venue) are still photographs. Some venues where Craig has performed don't allow photography for any show. For example, pictures were not allowed at the Comedy Works in Denver, there were conflicting opinions from security people in Windsor and we are told that the Hard Rock Casino in Tulsa did not allow pictures. However, Craig has never seemed to mind as along as no flashes are used, and some venues such as Nashville and Carnegie Hall have allowed pictures. The bottom line: If we are ever told differently by Craig or his team, we will let you know as soon as possible… but for now, if the venue allows it, it's our understanding that still photos taken without flashes during live shows are all right and we are happy to post them here if you would like to share them.
If you have any questions, please let us know using our Contact Us form or via Twitter @RSA_News.

Website Testing
We test our site with IE (32/64-bit), Firefox, Chrome, Opera, Safari and iOS.  If you notice that something doesn't look right or isn't loading correctly, please let us know and we'll do our best to repair it as soon as possible.

What our readers say
"A special thank you to @
RSA_News
for their continued support of The Late Late Show with Craig Ferguson."
– Katie Barker, CBS Publicist for The Late Late Show
"This continues to be THE PLACE for Craig and Craig-related news." – Joe at IAmATVJunkie.com
"Thank you @RSA_News for always keeping us informed." – Norma
"Thanks for all of your hard work keeping Craig fans so well informed! Much appreciated!" – Elaine
"Thank you RSA News for all do! Craigy fans wouldn't know what to do without you!" – laniecat
"Thanks for all you do, RSANewsies!" – Colleen
"Great coverage here! Thanks so much for collecting all the Craig goodies in one convenient spot for us." – Kate
"I would be remiss if I didn't thank you for reporting on all things Craig and channeling everyone's photos, blogs, and occasional tweets. Everyone who follows Craig should follow you as well as requirement for RSA." – ArtemusRex
"I love the RSA News. It's so nice to be in the loop. THANKS for the work you all put into the daily upkeep and the events you schedule and the support for Craig and LLS." – HoboRobot
"RSA News should be nominated for an award: Most awesome awesomeness ever!" – Kirk
"Thanks to everyone who works on this site! This is the best location to keep up on everything that's happening with my favorite, handsome, inspirational, smart, and sexy talk show host!" – Julie

We are honored to have Craig Ferguson following us on Twitter.  He retweeted us once in October of 2010, and in November of 2011 he sent out a "Follow Friday" tweet that introduced many new people to our website.  Thanks, Craig!