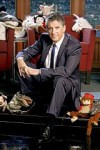 Craig Ferguson is back in Los Angeles after kicking off his 2011 tour in Thackerville, Oklahoma on Saturday night.  We saw lots of tweets from people in the audience and even a few who met Craig before the show.  The next stop on the tour is Denver, Colorado for eight shows at the Comedy Works.  A few tickets remain for the 10:30pm performance on March 16th.  We update our Live Comedy Tour page with the latest information available.
The Grammy Award for Best Spoken Word Album was awarded Sunday evening to Jon Stewart for The Daily Show With Jon Stewart Presents Earth (The Audiobook).  Craig was among the nominees in the category for the audio version of his autobiography American On Purpose.  Across the pond, Toy Story 3 won the BAFTA award for Best Animated film.  How To Train Your Dragon had been nominated in that category.
We're not sure when this one ends, but there's a another poll out there for favorite late night talk show host (on the lower right side of the page) and thanks to the RSA's @alliemjonze, @love_loud_music, @SexyCraigFerg and others, Craig is in the lead.
It's another week of all-new episodes of the Late Late Show, beginning Monday with retired The Price is Right host Bob Barker and The Big Bang Theory actress Melissa Rauch.  Tuesday, actor William Shatner returns to the show along with actress Gillian Jacobs.  Guests for Wednesday have not yet been announced but we'll update you as soon as we hear.  On Thursday, Craig welcomes actress Sarah Chalke and comedian Louie Anderson.  Then on Friday, Craig checks the tweets and emails with actor DJ Qualls and interviews actress/comedienne Lily Tomlin.  Happy Valentine's Day to roboskellies everywhere!
© 2011, RSANews. All rights reserved.